Page 3
Thursday, Aug. 31, 2006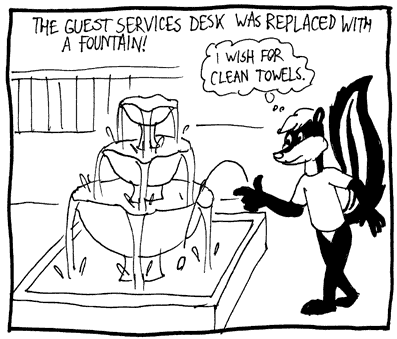 I got up and took a shower (after being startled by a burst of rusty water from the tub faucet; at least I HOPE that was rust), got dressed and went out into the hotel to see who had arrived so far. There was a bit of redecorating: a new fountain sat where once there had been the guest services desk.
Up on the fourth floor level by the elevators, I met Tony Ringtail, Hazardous Roo, Nikon Raccoon, and Butterscotch Vixen, who had been in an accident in her truck and had some bruises, including a big nasty one on her leg. At one point, while playing around, I tried to snatch Hazardous Roo's ears off his head, and discovered he'd taped them in place. Oops. He was okay with it, though, and just fixed them back in place. I seem to have a bad habit of grabbing things without asking permission first, and sometimes breaking them. I really need to stop that.
Anyway, I also met Isfacat and the Wanderer and I think Aerofox, he was there too, and a bunch of other furs. Also I had my little diecast Lightning McQueen figure with me, and just for fun I started calling it my "pet car" and inviting other people to pet it. Some of them did!
Anyway, I decided to go out and look for a place to eat lunch. I headed over to Elvis Presley Boulevard and drove past Graceland. Hmm, where might Elvis eat lunch? Ah, of course! Wendy's. So I had a burger there.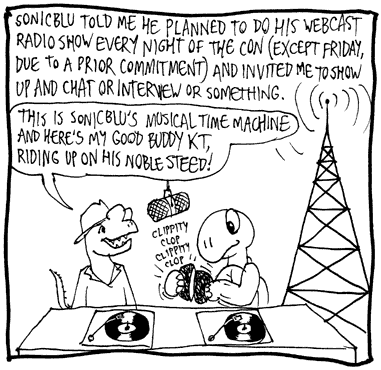 When I got back, I met SonicBlu, Havoc Fox, Jugular Jaguar, Tilt Longtail, and others. SonicBlu told me about his webcast radio show. Last year, he had been doing his radio show from the Garden Court (sitting at a table with his laptop and a microphone) every night, apparently, though somehow I'd missed it. Anyway, this year he was planning to do it again, every night except Friday, and he invited me to make an appearance. I said I'd try to make it!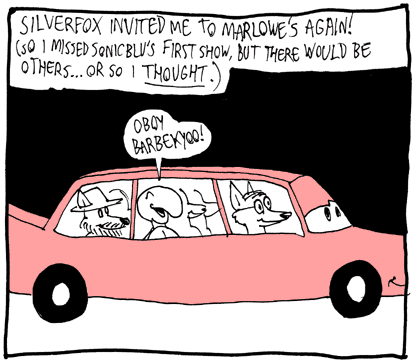 I watched some furs sitting at a table in the lobby playing Set, a nifty logic-based card game. After watching a few rounds, I joined for a few more rounds, but never won. Then I met Silverfox, who was getting some friends together to go to Marlowe's, the award-winning and heavily Elvis-themed BBQ restaurant we'd gone to the previous year. There were about seven of us, and just like the previous year, he called for a limo. After about 15 minutes, the limo driver showed up and escorted us outside, where a pink stretch Cadillac was waiting. We all climbed in and headed over to Elvis Presley Boulevard, which is where Marlowe's is. The entrance area has a display of trophies that the restaurant has won for its BBQ, a display of Elvis memorabilia, and a life-size cutout of Elvis. Off to the left is something new: a gift shop.
I had a plate of pulled pork with some fried okra and sautéed mushrooms. Mmm! Aww, but they were out of Dr Pepper! So I just had lemonade. A few other furs also ordered lemonade, so the waiter brought a pitcher of lemonade as well as pitchers of regular and diet Coke. At least there was no chance of me grabbing the wrong pitcher, eh? For dessert, I had a slice of Mississippi Mud Pie, a very rich chocolate dessert.
Back at the hotel, I staggered around, full of BBQ, and schmoozed with furs for a while. I saw a girl with a tail walking a dog with a similar tail, and various fursuiters. Eventually I retired to my room for the night.