---
fuzzytribute.gif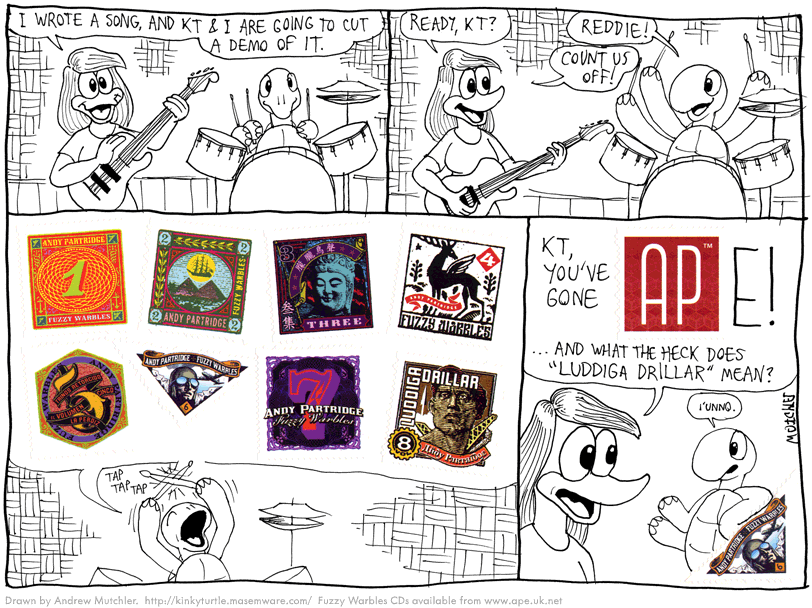 So there's this band I really like, called XTC.
So the lead singer, Andy Partridge (no relation to the Partridge Family, btw) put out a series of eight compilation albums of his unreleased tracks, demos, and sonic experiments called "Fuzzy Warbles", which he sells on his website, www.ape.uk.net (the AP in APE stands for Andy Partridge). The cover design is stamp-collection-themed; each disc has cover art that looks like a huge postage stamp.
So I bought them all (and I love 'em!) and with the last two discs I received a decorative box to put them in that looks like a stamp book, a bonus disc called "Hinges", and a sheet of self-adhesive stamps depicting miniature versions of the album covers.
Of course, the stamps can't be used for sending postage; they're just decorative (and there's only one of each anyway, not counting the two triangular stamps on the cover of volume 6).
So I decided to stick 'em into my sketchbook and draw a cartoon around them. Here's Doris and KT trying to record a demo.
DATE: 2006-10-04
FILESIZE: 143,481 bytes
IMAGE SIZE: 812x608 pixels