Thursday, August 5:
We anchored in Sitka, Alaska.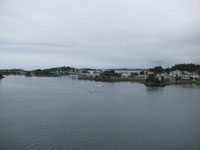 I guess there was no place we could dock, so the ship anchored out in the harbor, and tenders ferried people to the dock.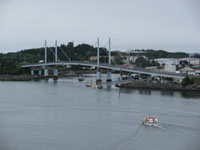 The O'Connell Bridge, which connects the town to Sitka Rocky Gutierrez Airport.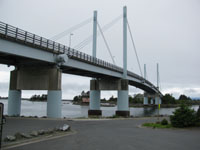 I hadn't bought any excursion tickets for Sitka, so I just went for a little walk around town. Oh, look, they have a Radio Shack!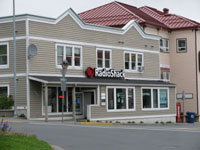 There's St. Michael's Cathedral.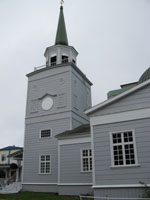 That's not a moose family!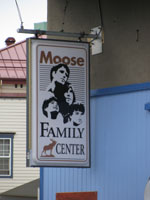 OK, that's a moose.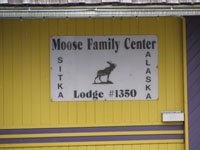 Sitka was originally a Russian settlement, with a Russian bishop and everything. Here's where he lived.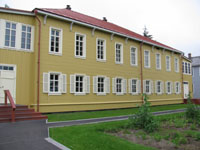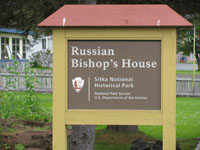 First floor, free. Second floor, four bucks! See, that's how they getcha.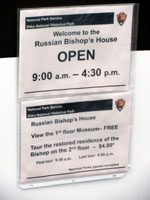 Soon I started getting hungry. Where to eat? Oh, look, there's a Subway.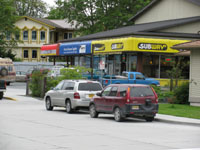 But instead, I went to the Westmark Hotel restaurant and had fish & chips.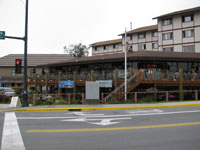 After lunch, I checked out Stereo North across the street. I bought a CD of Devo's "New Traditionalists" album.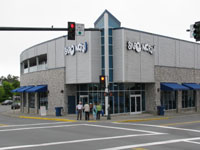 As I headed back toward the ship, I met Uncle Dave, Aunt Judy, Shirley, Sis and Bobbi. They were looking for a place to eat, and invited me along. We ended up at Victoria's Restaurant, where I just had a drink, having of course already eaten lunch at the Westmark.
Then I took a tender back to the ship. Here's a mountain peeking over a cloud; I just love seeing that!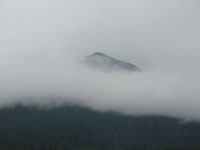 Later when we put out to sea, the ship was shrouded in dense fog.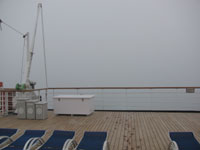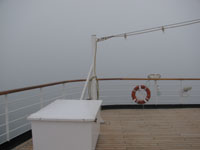 That night was the second formal night, so I ate in the Lido Restaurant. This time, Mom and Shirley joined me.
On to Friday