Friday, August 6:
We docked in Ketchikan, where we would only be until 12:30 because we had a long way to go to get to Victoria, the next port. So I got up early and disembarked, to wander around and explore the town before my excursion, which would be a floatplane tour of Misty Fjords National Monument starting at 10:30.
The weather was bad. It was cold, rainy and windy; a deadly combination.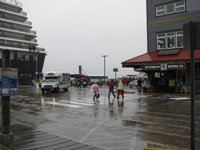 It depressed me, it made me worry about visibility and, more importantly, safety during the upcoming floatplane ride, as well as about timing, since I had to be back on the ship by 12:30. That, plus stress over my mom's mobility problems on the ship, really brought my mood down. The weather was so crappy I decided it wasn't worth it to explore the town, and I got back on board. As I sat in the lido restaurant eating a waffle, I decided there was no way in hell I was going back out there, and I skipped my excursion, hoping it would be canceled and I could at least get my money back. But the excursion desk was closed until 4:30, so I had to wait till then to find out.
A few hours later, the ship set sail for the open sea again. Finally, 4:30 rolled around, and I went to the excursion desk. Good news! The Misty Fjords flightseeing tour had been canceled, and the charge for the ticket was stricken from my bill.
Here's a ship we saw a few times during the cruise, decorated with a fancy bead-and-ribbon paint job. It was a Celebrity Cruise liner; the Celebrity Century or Millennium or something. I forget which.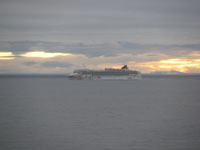 Later that night, there was a dessert exhibition up on the lido deck, with an extravagant display of cakes, eclairs, petit fours and many other things arranged on tables around the pool. I had a few pieces.
Then I went down to check on my mom. She was in a bad state; she had lymphedema on her leg, and a sore spot had opened up and was leaking fluid. She called her relatives in. Uncle Dave took charge and called the infirmary; I went back to my room, and later I found out a nurse had come up and wrapped Mom's leg in gauze and bandages.
Hoo boy, what a day. The worst of the trip as far as I was concerned.
Saturday, August 7:
When I got up, we were still at sea, only two-thirds of the way to Victoria, which we wouldn't reach until 6:00 pm.
In the meantime, there was a disembarkation briefing for everyone in the Vista Lounge, in which the cruise director explained the disembarkation procedure, what we should and shouldn't do, where we should be, what we should do with our luggage, what we should get taken care of in advance, etc.
Then there was a special farewell from the crew in which they all lined up on stage to be recognized. Here's the crew of the lido restaurant.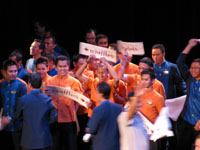 This woman brought me Orange Fanta every night at dinner, having sold me a soda card at the start of the trip (good for 20 glasses of soda), punching it with a hole punch for each glass.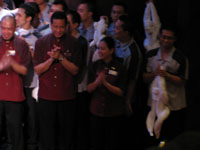 Captain Arjen van der Loo of the MS Oosterdam.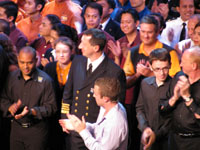 The entire crew. Wait, who's driving this thing? WE'RE GONNA GET STUCK ON A SANDBAR!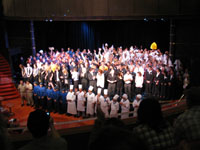 At 2:00, Uncle Dave and Aunt Judy helped me find the infirmary and wheel Mom there, where a nurse changed the dressing on her leg. Then she gave her more gauze and bandages so I could change it myself later.
That evening during dinner, the ship docked in Victoria, British Columbia. Uncle Dave and Aunt Judy went on an excursion to see the Butchart gardens. I hadn't bought any excursions in Victoria, and I was glad. I didn't even leave the ship; I stayed in my cabin and watched DVDs.
On to Sunday