Sunday, August 8:
We docked in Seattle, disembarked, got our luggage, and got on a shuttle bus that Mom had requested in advance to take us back to the Sheraton. I ran errands, getting Mom some soup for lunch at Westlake Center (where they had mostly Asian places, and she had to settle for Chinese noodle soup - in a huge bowl!) and getting first-aid supples at Bartell Drugs so Mom could have me change the dressing on her leg twice a day until we got back home.
For dinner that evening, I went across the street to the Cheesecake Factory to get dinner to go. I got a burger and fries, and a slice of cheesecake. It was delicious.
I didn't take any pictures, though.
Monday, August 9:
After checking on Mom, I went out to explore the town some more. I walked to Pike Place Market. I went down through it and out the other side. I walked to the Waterfront.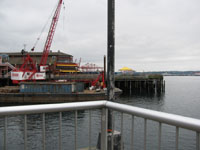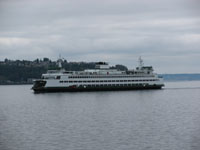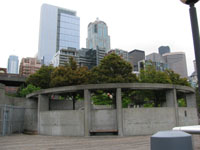 I knew there was an Ivar's there somewhere, as we'd eaten there during one Seattlemania, but I couldn't find it, so I went to The Fisherman's Restaurant for lunch instead, and had fish & chips.
Then I realized it was all uphill getting back to the hotel. I didn't want to walk back; I'd die! So I took a taxi. Then I went to the theater across from the hotel and saw "Inception".
For dinner, I went to the Jimmy John's in the building across the street from the hotel and got sandwiches for Mom, Bobbi and myself.
Tuesday, August 10:
Mom, Bobbi and I went to the Seattle airport to fly home. While waiting for our flight, Bobbi and I bought fish & chips at the Ivar's in the airport food court, enough for us and Mom. Mom found out why I rave about Ivar's so much; she loved it!
Then we flew home, and on Wednesday we picked up our cat from Rover Oaks Pet Resort, where we'd boarded her before the cruise.
THE END